About the short film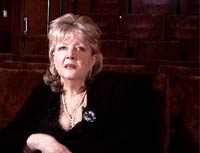 Memories from the Holocaust have been portrayed in almost every medium, but rarely animation -- and never before by a child animator. Animated short film "INGRID PITT: BEYOND THE FOREST" is a cross-generational collaboration between a world-class animation master, two-time Academy Award-nominated Bill Plympton, and a first-time animator, 11-year-old artist Perry Chen. It is narrated by Ingrid Pitt herself.
Starting with Ingrid Pitt's poignant narration and Bill Plympton's 23 traditional pencil sketches as storyboard, award-winning artist and film critic Perry Chen brings this moving story and its contemporary implications alive. Chen illustrates the miraculous escape of Jewish girl Ingrid Pitt from a concentration camp at age eight during World War II. Like Anne Frank, young Ingrid dreamed of being a movie star. Pitt survived, and fulfilled that dream. She appeared opposite Clint Eastwood in Where Eagles Dare and had a movie career spanning over forty years. She passed away in the UK in November 2010.
The short was directed and produced by Kevin Sean Michaels and co-produced by Dr. Zhu Shen (Perry's mom), with Holocaust expert Dr. Jud Newborn serving as historical adviser.
The film has already received numerous media mentions and rave reviews from acclaimed animation filmmakers and the Holocaust education community. It has broad potential for 21st Century human rights/tolerance education.
Video introduction to the film from historical adviser Jud Newborn