Support our independent film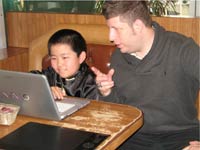 Even a six-minute short has a surprising number of expenses (with no guarantee of reimbursement): audiovisual equipment and supplies, studio time, musicians, workers compensation insurance (required by California, where Perry Chen is a resident), and more. It takes festival submission fees, travel, postage and other expenses to show the film at film festivals and schools. Several noteworthy entities have already donated, but as of this writing, we are still operating at a loss. All donations are greatly appreciated, and will be acknowledged with thanks on our website.
If you would like any additional information about the short, our expenses, or benefits for donors, please feel free to contact us. Thank you for your consideration.
Donors have a few choices in how to give:
Mail a check directly to VAMP Productions
Your check to VAMP Productions will ensure that 100% of your donation will go directly to the filmmakers. Please note that this is considered a gift, not an investment or a charitable donation. Checks may be mailed to:
VAMP Productions
PO Box 8103
Hicksville, NY 11802
Donate via PayPal
Using PayPal allows you to make a donation to VAMP Productions using your credit card. Please note that PayPal keeps 2.9% plus 30¢ per transaction; there may be additional fees for payments originating outside the U.S. Also note that PayPal is not subject to federal banking regulations and has a history of freezing accounts for no reason. Please consider donating by check if possible.
Make a charitable donation to the Cinema Arts Centre
You also have the option of making a charitable donation to The Cinema Arts Centre, a not-for-profit 501(c)3 organization. If your donation is specifically earmarked for "Ingrid Pitt: Beyond The Forest," the Cinema will make a grant to VAMP Productions of 95% of the donation amount. Please remember to specify in your cover letter and/or the check's memo field that the donation is earmarked for "Ingrid Pitt: Beyond The Forest." If you have any questions about donations to the Cinema, please call them at (631) 423-7611 and ask for Dylan Skolnick. Checks may be mailed to:
Cinema Arts Centre
423 Park Avenue
Huntington, NY 11743
Thank you!