2013 News Archive
2011 news archive
2012 news archive
You are here -> 2013 news archive
April 2013
THE VIPER ROOM / THC MUSIC / FIRST JASON PRESENTS:
DAYS OF THE DEAD (PRE-SHOW PARTY)
Thursday, April 04, 2013 @ 7:30pm
The Viper Room, West Hollywood, CA
Bill Moseley hosts this rockin' event.
LA Premiere screening of music video "Vampira Chant," by Ingrid Pitt: Beyond The Forest director Kevin Sean Michaels

DAYS OF THE DEAD
Friday - Sun. April 5 - 7, 2013
Friday 5pm -11pm, Sat 11am - 7pm, Sun 11am - 5pm
Los Angeles Convention Center
1201 S Figueroa St.
Los Angeles, CA 90015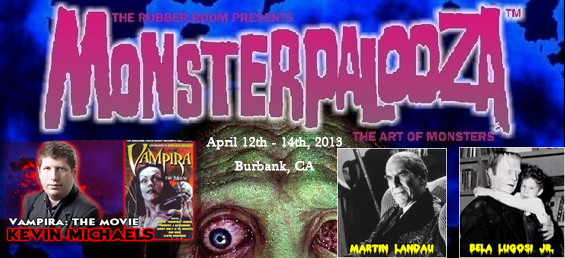 Eliot Brodsky's
MONSTERPALOOZA 2013 - The Art Of Monsters
April 12th - 14th, 2013
Fri 6pm - 11pm, Sat 11am - 6pm, Sun 11am - 6pm
Los Angeles Marriott Burbank Airport
2500 N Hollywood Way
Burbank, CA 91505
McMenamins presents
Ed Wood's PLAN 9 FROM OUTER SPACE INTERACTIVE!
Friday, April 26th
7:30 p.m. doors; 8:30 p.m. show, $5 per person, 21 and over
1624 N.W. Glisan, Portland, OR 97209
Kevin Sean Michaels and Dennis Nybeck host the "worst" movie ever made!
January - March 2013
Screening at FILMGATE festival in Miami, Florida

We are very pleased to announce that Ingrid Pitt: Beyond The Forest will be screening at the FILMGATE festival in Miami, Florida on February 2, 2013. FILMGATE is an interactive media festival and new technology trade show for independent filmmakers and production companies, and will include interactive screenings, workshops, master classes, director talks and music.
FILMGATE is brought to you by Indie Film Club Miami. Not your ordinary film club, Indie Film Club Miami is a non-profit organization that fosters the growth, skills and cohesiveness of the South Florida film community. They work in collaboration with digital media content creators to better understand and represent the culturally diverse, unique South Florida perspective.
"We are very excited to screen your project in our first year!" wrote Diliana Alexander, the Executive Director of Filmgate Miami, to Ingrid Pitt: Beyond The Forest co-producers Kevin Sean Michaels and Zhu Shen.
Be sure to check out the official FILMGATE website for all the details.
| | |
| --- | --- |
| What: | Screening of Ingrid Pitt: Beyond The Forest |
| When: | Saturday, February 2, 2013. Ingrid Pitt: Beyond The Forest will be included among an array of exciting short projects from 2:00 PM to 4:00 PM. |
| Where: | O Cinema, 90 NW 29th Street, Miami Beach, FL 33139 |
| More info. | FILMGATE website, O Cinema website |
Debbie Rochon honored with Ingrid Pitt Award
On January 12, a very special event took place at the Cella Art Gallery in North Hollywood, California. Actor Debbie Rochon was presented with the very first Ingrid Pitt Memorial Award to honor her excellence and perseverance in the horror industry.
The Ingrid Pitt Memorial Award was presented in conjunction with The Estate of Ingrid Pitt, filmmaker/producer Kevin Sean Michaels and event coordinator Stacy Pippi Hammon. The event took place at the Cella Art Gallery, a contemporary fine art gallery in the NoHo Arts District that loves to support the independent art and horror communities.
2011 news archive
2012 news archive
You are here -> 2013 news archive